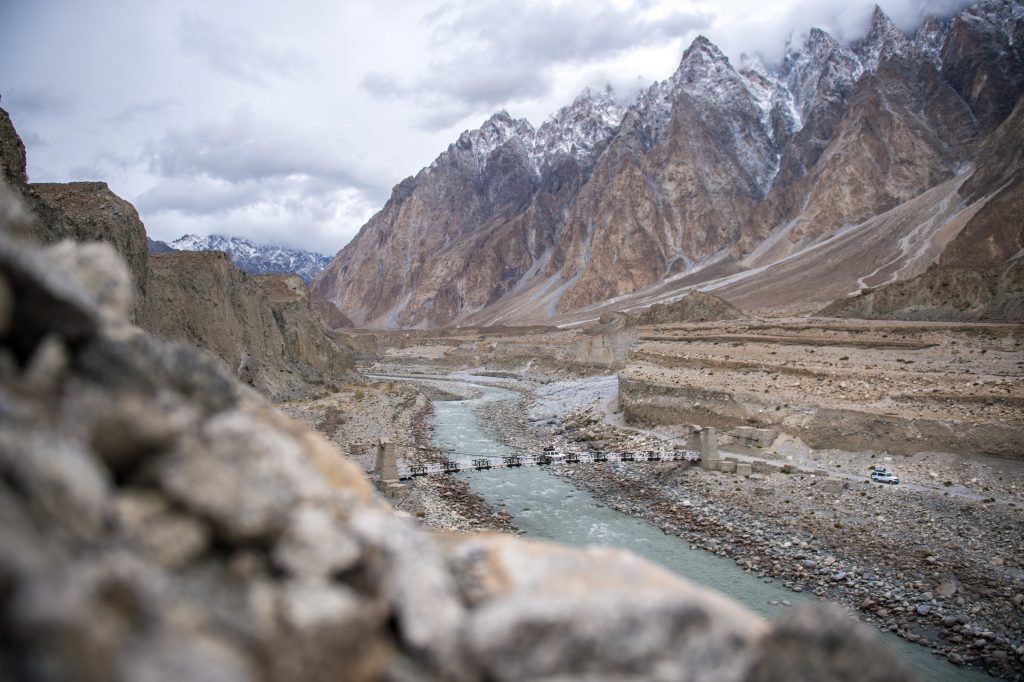 In The Shadow of The 8000er
ADVENTURE ON THE FAMOUS SHIMSHAL ROAD
Nearly 20 years back it was built and until it was finally completed in the early 2000s. Until then, Shimshal could only be reached after a 3-days walk/trek. Unmountable for us " spoiled infrastructure" 😉 We heard from numerous workers who died in the construction of the road. How many were exactly you could not tell us. But since the completion of the road, there were apparently no accidents. The road is about 55km long, but with the average 10 to 15km / h you need a good 4 to 5 hours drive to reach. You should already have an experienced driver, it helps a lot if you already know the road. Although I would have liked to drive it myself.
ANXIETY?
With two Toyota four-wheel drive vehicles, the journey is packed. At Passu it goes down from the Karakorum Highway east. One last time we are asked for our ID cards by the military after the first suspension bridge until finally it goes to the secluded Shimshal village. Stepan and Andreas, Johannes have been here before and know the road. But I think something like this one is not used to and can sleep comfortably in the car. You want to look out, take pictures, enjoy. Martin, Thomas and Andi did not know the road yet and thought it was breathtaking. Of course, we need a little longer than normal because we take so many pictures and videos. After each turn it gets even more beautiful and picturesque.
The road was completely built without concrete or other fortifications. It was only blown up, hammered and dredged and simply stacked stone by stone and compacted with gravel and other stones. It does not look like it, but we find the road very stable and trustworthy.
The only danger on the road is really only when something comes from above. In heavy rainfall, it is advisable not to be on the road. 3 weeks later we should make our own experience. Together with the trailers, we will remove 4 small landslides by hand with the shovel. What is quite fun for us for a few hours, the guys do all year round and they were so glad we helped them.
TRUSTED FACES, a mega beautiful road and I can recommend this ride only anyone, unless you have fear of heights and fear of cars that have not passed through TÜV for years :-). As we arrive in Shimshal, already familiar faces are waiting for us. Gul, the brother of Mirza Ali, and his children run to meet us. Zarar, the eldest son of Gul, had already participated twice in the ski course and twice mastered the ski race with flying colors. The kids told us, they are looking forward to the planned climbing course this time. Tired of the ride, we fall into bed quite early. That's right, because the next day the first acclimatization tour is on the program …